I am a historian of Early Modern Britain and the Atlantic World. My research has focused on constructions of hierarchy and power – gender, race, and class – in Britain and in the British Atlantic. I have also been deeply engaged in dialogue with literary scholars, and increasingly, involved in thinking about literary texts as historical sources.  I am currently a Professor of History in the Department of History and Critical Race and Ethnic Studies at the University of California, Merced.
At UC Merced, I teach undergraduate courses in history, and graduate courses in Interdisciplinary Humanities. I served as the founding Director of the UC Merced Center for the Humanities, and as Chair of the UC Merced division of the Academic Senate. I live in Merced with two cats.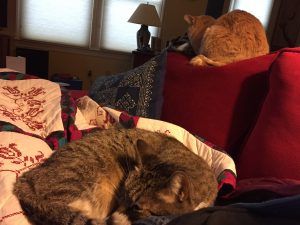 You can find me by email samussen@ucmerced.edu, and on Twitter. On Twitter I may be thinking about history, education, the humanities, gender, race and (occasionally) US and UK politics. And cats.