Sean L. Malloy
Associate Professor of History

Founding Faculty
School of Social Sciences, Humanities and Arts
University of California, Merced

5200 North Lake Rd.
Merced, CA 95343
smalloy@ucmerced.edu

Ph. D. (History) Stanford University, 2002
B.A. (History) University of California, Berkeley, 1994
Recent Publications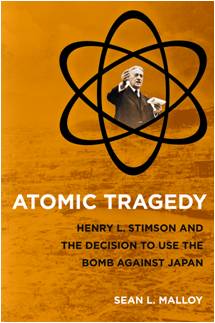 Books

Atomic Tragedy: Henry L. Stimson and the Decision to Use the Bomb Against Japan, Cornell University Press, 2008 (Book Website) (Amazon).
Articles
"'A Very Pleasant Way to Die': Radiation Effects and the Decision to Use the Atomic Bomb Against Japan," Diplomatic History, Vol. 36, No. 3 (June 2012), 515-545 (link).
"Four Days in May: Henry L. Stimson and the Decision to Use the Atomic Bomb," The Asia Pacific Journal: Japan Focus, Vol. 14-2-09 (April 2009) (link).
"'The Rules of Civilized Warfare': Scientists, Soldiers, Civilians, and the American Debate Over Nuclear Targeting," 1940-1945, The Journal of Strategic Studies, Vol. 30, No. 3 (June 2007), 475-512 (link).

Full C.V. (pdf)
Research Interests
My research interests include issues of race, war, and morality in U.S. foreign relations . I have written on early nuclear history as a way of examining the intersection between science, ethics, and decision making, including a recently-published article in Diplomatic History on pre-Hiroshima knowledge of radiation effects among American scientists and leaders.
My current research project is a study of the radical internationalism of the Black Panther Party (BPP) and its relationship to the Third World, the Cold War, and neoliberal globalization. My article "Uptight in Babylon: Eldridge Cleaver's Cold War" is forthcoming in Diplomatic History.
Courses Taught
History 16: The Forging of the U.S., 1607-1877 (syllabus )
History 17: The Modern United States, 1877-2008 (syllabus )
History 120: Essence of Decision (syllabus )
History 124: African American History (syllabus )
History 131: The History and Literature of the 1930s (syllabus)
History 135: The History and Literature of the 1960s (syllabus )
History 139: Comparative Race and Ethnicity (syllabus)
History 190: Applied Research (syllabus)
History 191: History Capstone (syllabus).
History 193: Honors Thesis Research (syllabus)
WCH 240: U.S. Social/Cultural History (syllabus )
WCH 248: Race, Empire, and U.S. Foreign Policy (syllabus)