Two-dimensional semiconductor nanoparticles.
Many types of semiconductors have properties which are particle size dependent. Semiconductor nanoparticles are particles which are sufficiently small that their physical and chemical properties are very different from those of bulk materials, and are dominated by quantum mechanical effects, so-called "quantum confinement". These particles are thus often referred to as "quantum dots." We have been interested in semiconductor nanoparticles because of their possible applications in regenerative photocells, photocatalysis and in electroluminescent devices. Development of quantum dots for all of these potential applications requires that we understand their size-dependent spectroscopy and photophysics. We have been primarily interested in the extremely photostable, two dimensional metal dichalcogenide semiconductors, such as GaSe and InSe. The crystal structure of bulk GaSe is shown below.
GaSe nanoparticles consist of "single tetra-layers", i.e., a single sheet of covalently bound Se-Ga-Ga-Se. These particles have diameters ranging from 2.5 to 10 nm and single sizes can be produced by controlling the synthetic chemical environment, or by chromatographic separation.
We have put GaSe nanoparticles in organic liquid crystals. GaSe nanoparticles are able to form a hybrid organic/semiconductor liquid crystal with the smectic-A phase of  4-octyl, 4'-cyano biphenyl, 8CB. This is a common liquid crystal molecule , and the phases of 8CB are shown below.
                                                   Isotropic  > 41 C                  Nematic 34-41 C                                    Smectic-A 20—34 C                            Crystalline < 20 C
Incorporation of GaSe nanoparticles into the liquid crystal results in almost complete alignment of the particles – the particle's normal line up with the liquid crystal director axis. This is seen from static polarized absorption measurements, below. The "order parameter" (0 = random orientations, 1= completely ordered) for these particles is about 0.96.
<![if !word & !ppt & !excel & !vml]>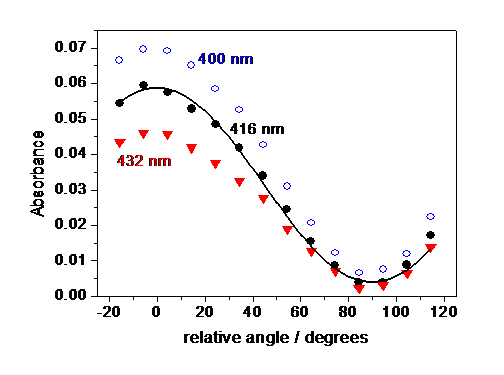 <![endif]>

Absorbance at several wavelengths as a function of the angle between the polarization of the light

and the liquid crystal director axis. Absorbances for 400 nm (open blue circles), 416 nm (solid black circles),

and 432 nm (solid red triangles) are shown. Also shown is a sine squared fit to the 416 nm absorbances.

Thus, the particles form well-ordered one-dimensional arrays in the liquid crystal host – the disk-like particles stack like Frisbees or dinner plates. The lack of disorder greatly increases the extent of particle-particle interactions, and fluorescence from these nanoparticle arrays is shifted about 50 nm to the red of that from solution phase GaSe nanoparticles.  Time resolved results indicate that the excitons travel large distances, at least microns!

<![if !vml]>