---
<![if !vml]>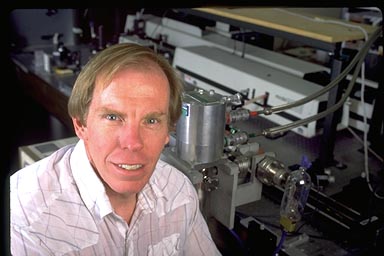 <![endif]>
Professor David F. Kelley
Professor
B.S., Whitworth College (1976)
Ph.D., University of Washington (1980)
Postdoctoral Fellow, Bell Laboratories (1981-1982)
---
Email: dfkelley@ucmerced.edu
Office Phone: 209-228-4354


---
Physical Chemistry
Spectroscopy and dynamics of semiconductor and metal nanoparticles. Dynamics of condensed phase electron and proton transfer reactions. Ultrafast optical spectroscopy.

Research Overview
My research focuses on condensed phase spectroscopy and dynamics. We have been particularly interested in the chemical, optical and electronic properties of semiconductor nanoparticles and in electron transfer reactions involving inorganic dyes.
Two-dimensional semiconductor nanoparticles.
Many types of semiconductors have properties which are particle size dependent. Semiconductor nanoparticles are particles which are sufficiently small that their physical and chemical properties are very different from those of bulk materials, and are dominated by quantum mechanical effects, so-called "quantum confinement". These particles are thus often referred to as "quantum dots." We have been interested in semiconductor nanoparticles because of their possible applications in regenerative photocells, photocatalysis and in electroluminescent devices. Development of quantum dots for all of these potential applications requires that we understand their size-dependent spectroscopy and photophysics. We have been primarily interested in the extremely photostable, two dimensional metal dichalcogenide semiconductors, such as GaSe and InSe. The crystal structure of bulk GaSe is shown below.
                      <![if !vml]>
<![endif]>
GaSe nanoparticles consist of "single tetra-layers", i.e., a single sheet of covalently bound Se-Ga-Ga-Se. These particles have diameters ranging from 2.5 to 10 nm and single sizes can be produced by controlling the synthetic chemical environment, or by chromatographic separation.
<![if !vml]>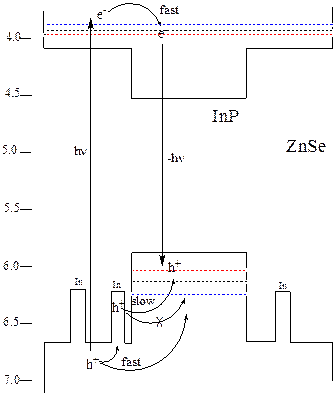 <![endif]>
TEM images of 8.4 +/- .7 nm GaSe nanoparticles.
Photoexcitation of these particles produces conduction band electrons and valence band holes. A major pathway following photoexcitation is radiative decay, and the particles are strongly luminescent, as shown below. 
<![if !vml]>
<![endif]><![if !vml]>
<![endif]>
<![if !vml]> <![endif]>

The electrons and holes and undergo interfacial charge transfer and/or trapping into localized surface states. One of the main goals of the research have been to understand the optical spectroscopy of these particles. We also use time-resolved ultrafast absorption and emission spectroscopy to study electron transfer across the nanoparticle/nanoparticle and nanoparticle/liquid interfaces. We have shown that these nanoparticles form extended, somewhat disordered one dimensional aggregates. This type of behavior is unique among semiconductor nanoparticles and is due to their two dimensional, disk-like shapes; they form stacks in room temperature solutions.
Charge separation in nanoparticle heterojunctions.
Aggregates comprised of mixtures of GaSe and InSe nanoparticles therefore have GaSe/InSe junctions. Upon photoexcitation, these junctions undergo charge separation, as shown in the schematic below.
<![if !vml]> <![endif]>
Charge separation is the first step in solar energy conversion, and these types of junctions hold great promise as the active media an photovoltaics or hydrogen-producing photoelectrochemical cells. One of the current efforts in the research group is to understand and control the dynamics of these interfacial charge transfer processes. Electron transfer and relaxation rates from surface defect "trap" states are very different from the rates when the electrons are in the conduction band. As a result, the understanding and control of trap states are crucial issues in potential applications of semiconductor nanoparticles.
Nanoparticles in liquid crystals.
Recently, we have been putting GaSe nanoparticles in organic liquid crystals. Specifically, GaSe nanoparticles are able to form a hybrid organic/semiconductor liquid crystal with the smectic-A phase of      4-octyl, 4'-cyano biphenyl, 8CB. This is a common liquid crystal molecule , and the phases of 8CB are shown below.
<![if !vml]>
<![endif]>
Incorporation of GaSe nanoparticles into the liquid crystal results in almost complete alignment of the particles – the particle's normal line up with the liquid crystal director axis. This is seen from static polarized absorption measurements, below. The "order parameter" (0 = random orientations, 1= completely ordered) for these particles is about 0.96. 
<![if !vml]>
<![endif]>
Absorbance at several wavelengths as a function of the angle between the polarization of the light
and the liquid crystal director axis. Absorbances for 400 nm (open blue circles), 416 nm (solid black circles),
and 432 nm (solid red triangles) are shown. Also shown is a sine squared fit to the 416 nm absorbances.
Thus, the particles form well-ordered one-dimensional arrays in the liquid crystal host – the disk-like particles stack like Frisbees or dinner plates. The lack of disorder greatly increases the extent of particle-particle interactions, and fluorescence from these nanoparticle arrays is shifted about 50 nm to the red of that from solution phase GaSe nanoparticles.  Time resolved results indicate that the excitons travel large distances, at least microns!
Luminescent Solar Collectors. (LSCs)
Highly fluorescent core/shell semiconductor nanorods can be used as the fluorescent media for LSCs. In these collectors, sunlight is absorbed by semiconductor nanoparticles and re-emitted at longer wavelengths. The for most emission angles, the re-emitted light undergoes total internal reflection and is trapped in the transparent media supporting the particles. The light can escape only at the small area at the end of the collector and is therefore concentrated.
In our research, we are studying the absorption, fluorescence and energy transfer properties of CdSe and CdTe nanorods. The efficiency of these collectors can be limited by the luminescence efficiency of the nanoparticles. To maximize the luminescence efficiency, the surfaces of the nanorods are passivated by a coating  of a larger bandgap semiconductor, such as ZnS. Self-absorption of the emitted light is also a major problem in these devices. One solution to the self-absorption problem is to have a mixture of smaller, blue-absorbing and larger, red-absorbing nanorods. Most of the sunlight is absorbed by the smaller ones. Energy transfer occurs to the larger ones which then emit at redder wavelength, where there is very little self-absorption, as depicted in the figure below.
<![if !vml]>
<![endif]>